Marketing leaders often struggle with where to focus their company's efforts. In today's data driven world, leaders want to see performance and tend to shy away from spending money on what they perceive to be fluffier brand activities.
However, it's a catch-22—it's a lot easier to generate leads if a brand is strong, and near impossible if a brand is anonymous. It's arguable that businesses should focus more on performance and the bottom line.
So how do clients boost both their brand and performance? With killer content. Before we further discuss the benefits of content, let's get a better understanding of brand and performance marketing.
What Is Brand Marketing?
Brand marketing is all about creating recognition and awareness. The success of a brand depends on setting itself apart from competition, highlighting unique value propositions and delivering value to its customers.
Let's face it, brand marketing often gets put on the back burner. Clients want to focus on quick-hitting wins. However, it's essential to keep long-term goals in mind. When a brand successfully communicates its mission and values, and these resonate with customers, people become loyal to the brand and continue bringing repeat business.
What Is Performance Marketing?
Performance marketing is exactly what it sounds like—marketing based on performance.
Overall, it's a comprehensive term. For example, once a prospect completes a desired action, the action is tracked and measured. Actions can include a click, form-fill or content download, to name a few. It's obvious why performance marketing is a top priority, these actions directly impact the bottom line.
The point is, conversions are what keep the business moving forward. But it's a heck of a lot easier to get those actions completed with a memorable brand identity.
Bridging the Brand and Performance Gap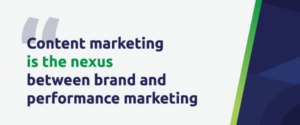 Content marketing is the nexus between brand and performance marketing because it helps companies meet potential customers through integrated online experiences.
Think about how the customer journey has changed over the last decade. When prospects are in the consideration phase of the buying process, they are researching online more than ever before. In fact, 90% of B2B consumers research 2-7 sites before making a purchase. If you're not producing content for your visitors, you've missed an opportunity. Needless to say, your competitors will take advantage of this and maximize their market share.
Having quality (and quantity) information available to prospective customers is an absolute must. Not only will you boost brand awareness, but you'll boost performance marketing metrics and the bottom line simultaneously.
HubSpot's $14 Billion Brand
Some brands have completely built themselves on content. Let's take Hubspot for example, the premier CRM software company. Hubspot produces and regularly distributes a substantial amount of high caliber content. As a result, they have become known as thought leaders in the marketing industry. Visitors land on Hubspot's site looking for industry information and in return Hubspot is connected to relevant audiences and lands quality leads. These quality leads convert and Hubspot boosts their bottom line, all while promoting their brand. Hubspot has been extremely successful with their content strategy and is now worth around $14 billion.
Drift's Content Delivery System
Drift has also seen a great deal of success with content, not only on their website but also delivered through their chatbot. They've engaged in many conversations, gaining brand exposure and amplifying their bottom line. Founded in 2015, they now have over 50k customers.
The point is, both Hubspot and Drift are brands rooted in content delivery systems that open the door to potential customers, resulting in the creation of two highly respected brands.
Follow suit and picture this scenario in the context of your business: Potential leads are coming to your website looking for industry information. Because of the quality and quantity of information that's available on your site, your business is known as thought leaders in your industry. Furthermore, this contributes to your brand and performance goals—ultimately increasing revenue and leading ahead of your competition.
Let's work together to make this a reality.
Winning With Content
Investing in content is the most effective way to amplify both your brand and performance. When your audience is aware of your brand, it's a lot easier to generate leads. Performance will follow as a natural byproduct of a strong brand.
With B2B consumers researching online more than ever before, it's crucial to stand out and be part of their conversation. We've helped brands write content that converts and as a result, they've been positioned as leaders in their respective industries. So whether you're looking to build brand awareness or focus on performance in your next campaign—create a content strategy that helps you win both.
Featured Articles
Br8kthru insights