Published: 2.10.23
When Br8kthru is in initial talks with a company, we ask questions that get to the root of their pain points and uncover their ideal state of marketing. Oftentimes, we hear the company is seeking a more intentional strategy behind their efforts, more capacity to support internal teams that are stretched too thin to execute on all their ideas, or a marketing partner that is proactive and brings new ideas to the table regularly, rather than reacting to industry standards.
All of these nuances help us tailor recommendations for our Clients.
When we understand the issues at hand, we're able to recommend a plan of action specific to your unique situation. That way, we're addressing the true problems and meeting Client expectations, rather than taking a cookie cutter approach to marketing.
Leveling Up Strategy + Service
When we first begin talking to prospects, their digital marketing strategy is in any number of places. For example, we've worked with Clients who want a more developed strategy, who feel as though their current strategy is on "autopilot," or the strategy they've been using may not meet their business needs anymore. In each of these scenarios, Br8kthru is able to provide pragmatic solutions so you receive a comprehensive strategy that you can execute on and get results from.
This situation plays out over and over. For one Client, we knew they were lacking internal strategy, and no one internally owned marketing or the website. Because of this, we needed to be realistic about what we proposed. We ended up sharing several low-hanging fruit ideas such as adding a paragraph of text to product category pages, and updating links and icons to meet user expectations. This approach convinced the Client to work with us long-term because we met them where they were, right from the beginning.
On the other hand, many Clients are not ready to dive into a full-fledged marketing program. We recognize this and often take a phased approach to partnerships. The 'marketing maturity curve,' is an example of our phased approach to help Clients feel comfortable stepping into marketing activities.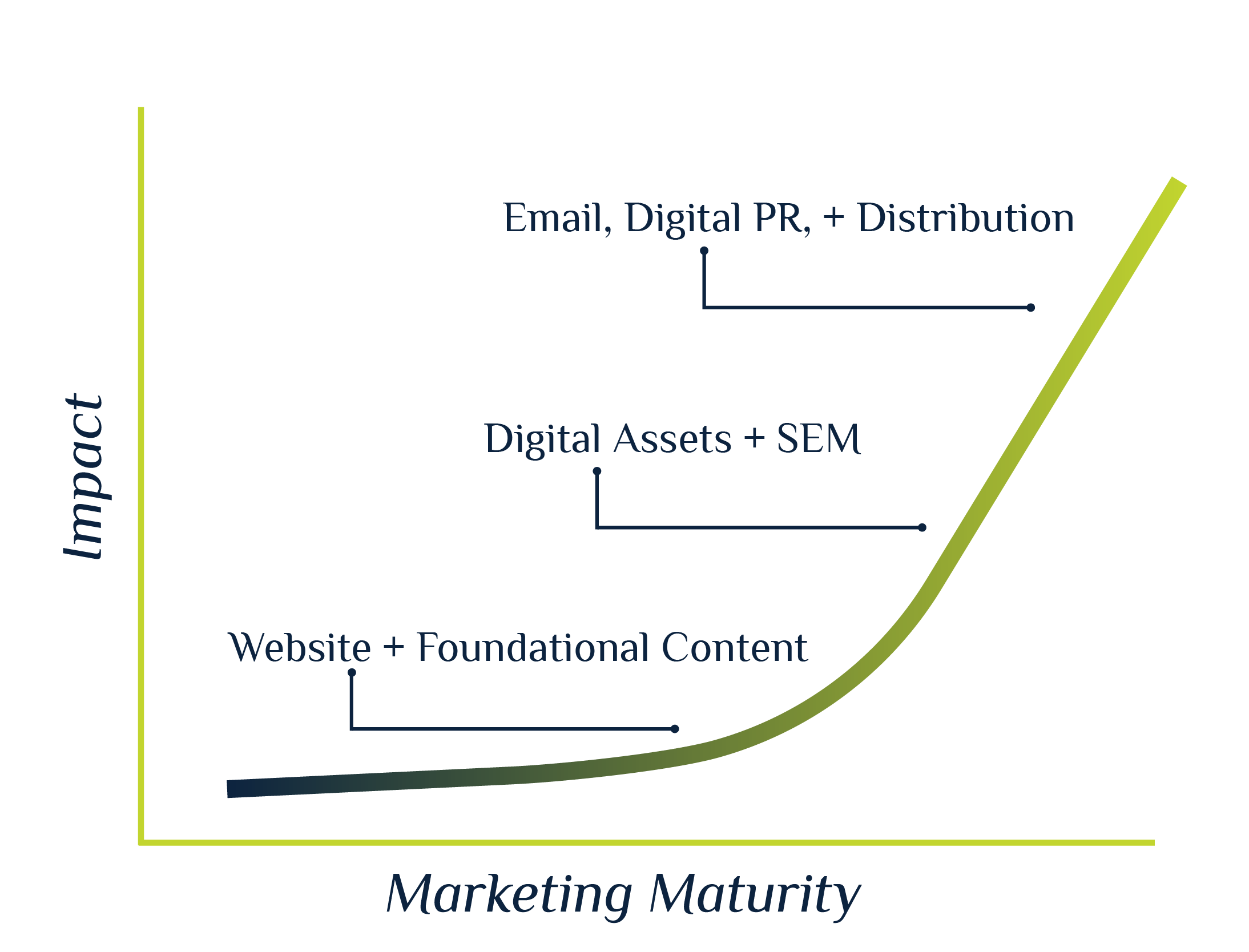 No matter what tactics make up a strategy, our team is composed of subject matter experts (SMEs) who aim to meet or exceed Client expectations and achieve the results you plan for.
Supporting Internal Teams
"We'd love to, but…" often comes up in situations where internal capacity is low. Low capacity can look like anything from a small team with a longer list of responsibilities than you have time to complete to new hires who are eager to learn but lack a background in digital marketing to equip them to succeed. Either way, not having the time or resources to execute on a strategy is a challenge for many of our prospects. To effectively address capacity concerns, Br8kthru creates strategies that are mindful of Client expectations and what you can realistically accomplish.
For example, we had a Client who was interested in content marketing, but didn't have the internal bandwidth to execute any work, and didn't have full control over their company website. We didn't recommend an introductory blogging strategy for that Client. Instead, we recommended a few tactics that would be achievable for their team's available time and skills. We recommended they transcribe podcast episodes to repurpose audio in a different format and enhance content on the existing articles that had potential to rank in search results.
When capacity is a challenge, our recommendations prioritize tactics that can create meaningful results without putting unneeded stress on your internal team.
Overcoming Challenges with Current Partners
Another common concern we hear from prospects is that they're facing challenges with their current partners. We've had Clients share that high turnover rates or acquisitions of partner companies have led to a poor understanding of the business. Others tell us that their current partners are reactive, and only deliver baseline updates, rather than bring new ideas to the table. Regardless of what happens, the results are that Client expectations are not met, results are insufficient, and trust is eroded between the Client and their partner. In these scenarios, we double down on our relationships of trust.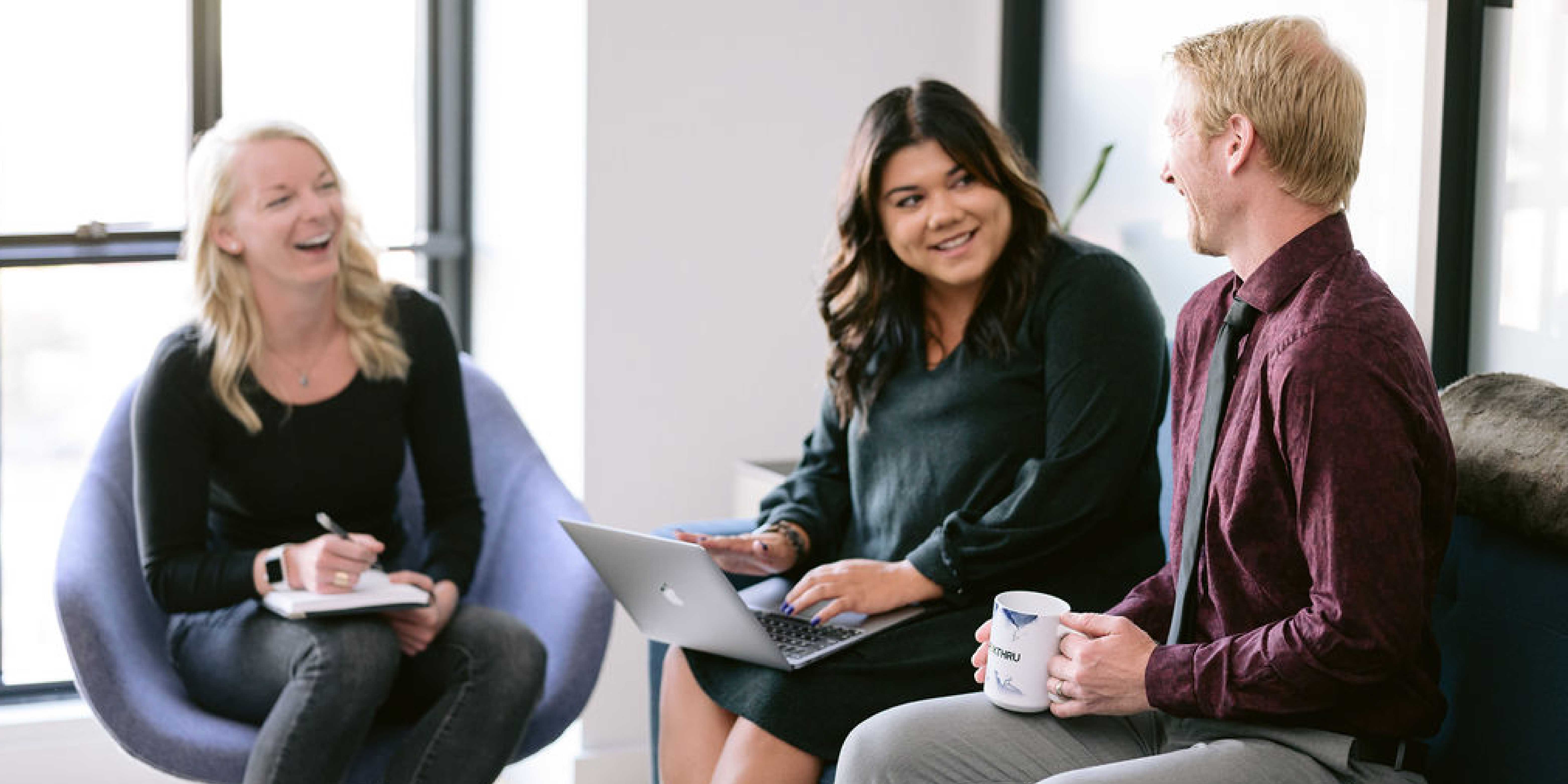 We know our team will continue to bring new ideas to the table and produce high-quality work; that's a given. Our differentiators are our Account Managers (AMs), Project Managers (PMs), and the diligence we put toward humanizing business. As a Client, you will understand what we're working on and why, because we communicate regularly about our strategies and tactics. Reporting focuses on real data with actionable insights, so you're always in control of next steps.
Everything we do is focused on building a relationship with you and your team so you know we're there for you, no matter what you need.
Meeting Client Expectations Through Relationships
At Br8kthru, we know results are table stakes and relationships of trust are the true return on investment (ROI) of our work. Each time we talk to a prospect or Client, we aim to demonstrate the value of our work in a comprehensive way while meeting them where they are.
Whether you face challenges with strategy, service, capacity, or other partners, we work to truly understand your problems so we can solve them. Only once we understand the root cause, how the situation came to be, and our path forward will we begin to collaborate with you. For more information on our approach and how it can work for you, please feel free to reach out.
Featured Articles
Br8kthru insights