The Results Are In and Br8kthru Earned the Top Spot
The results are in! Br8kthru has been honored with Twin Cities Business magazine's Best Digital Marketing Firm.
Each year, Twin Cities Business conducts its Reader's Choice Poll for outstanding local businesses to be recognized by their peers. Winners exemplify "[a]n abiding commitment to customers. The ability to execute. And exceptional service." We're honored to once again be nominated and selected for this award, which we feel illustrates our commitment to our community and our Clients.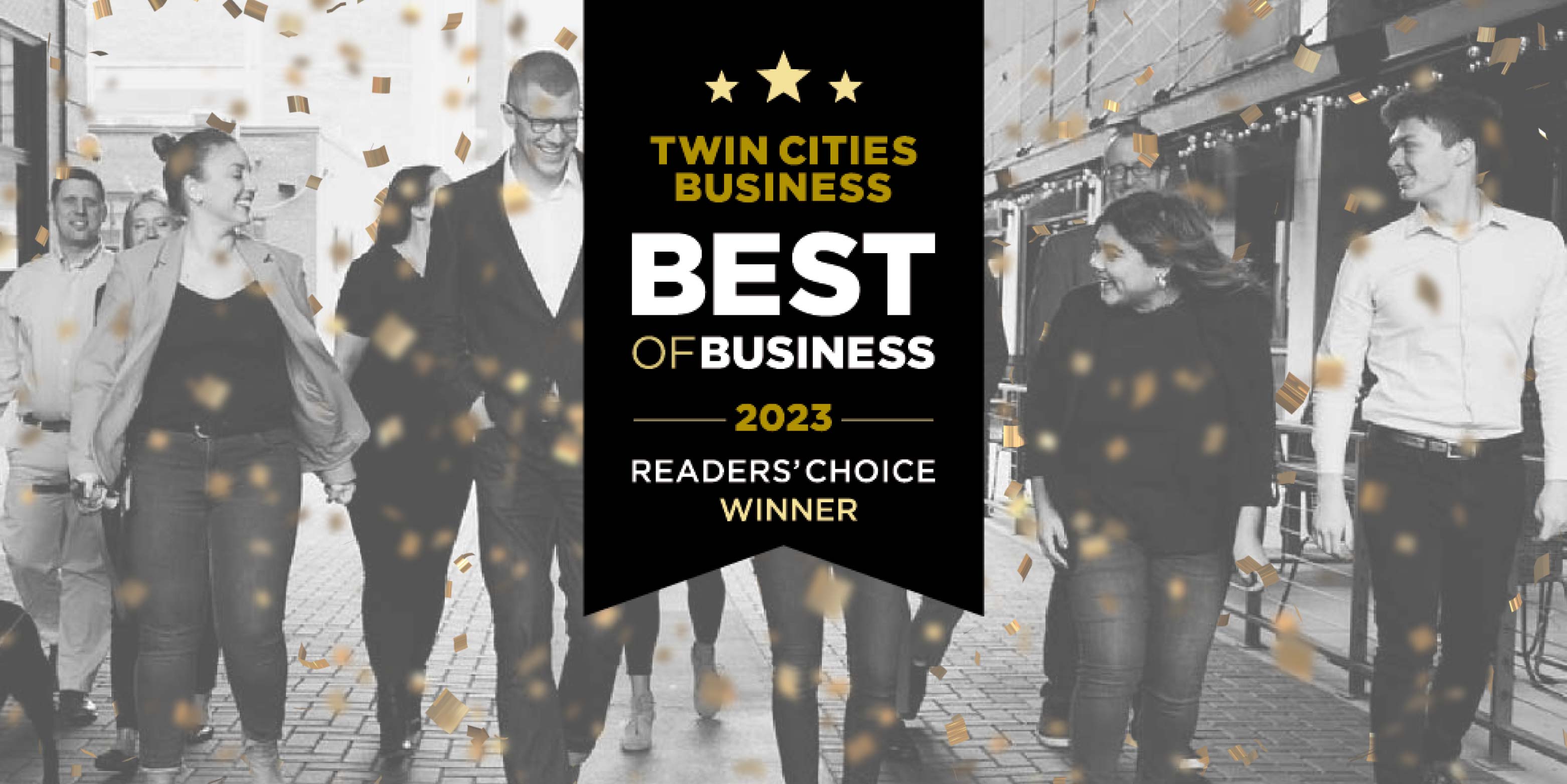 "At Br8kthru, our people and our commitment to Michelin-Star Standards set us apart," said Jon Lenz, CEO + Founder at Br8kthru. "Since first winning Best Digital Marketing Firm in 2021 and being a finalist in 2022, Br8kthru has leveled up our commitment to the highest level of excellence and service for our Clients and partners. This award for Best Digital Marketing Firm truly reflects progress toward our shared vision and tremendous effort to become the only Michelin-Starred digital marketing agency in the world."
We're grateful not only to our team for their continued hard work and success, but also to our exceptional network of partners and Clients, who support us at every step. A heartfelt thank you to everyone who took the time to vote for Br8kthru in the Best of Business Awards!
Hear From Our Team
See Why Our Team Nominated Br8kthru Consulting as the Best Digital Marketing Firm in Minnesota
Through our commitment to continuous improvement, Br8kthru is focused on providing a Michelin-Star service to both our Clients and our internal team. The work we deliver to our Clients is a reflection of how we work together internally. I am proud that we recognize this balance and are striving to always be better as a team.
Kara Schurtz
Director of Delivery + Talent Development
I voted for Br8kthru for Best Digital Marketing Firm because of our commitment to quality. This is found in the work we deliver to Clients, the relationships we hold with our community, and how we continually strive to make this a company and a place where people want to be. The most important part, which we refuse to overlook, is acknowledging our areas of opportunity, learning from them, and implementing change in a way that actually allows us to grow.
Taylor Baskfield
Manager of Project Management
I've been a part of Team Br8kthru for nearly 3 years and have had the opportunity to be a part of the company's growth and evolution. Br8kthru is doing big things and our partners are our top priority. Br8kthru lives its core values and brand promise — voting for Br8kthru was an easy choice!
Sarah Sullivan
Senior Project Manager
Employees at Br8kthru care deeply for each other, our Clients + Client goals. We push each other to collectively get past blockers to deliver on the best for our Clients — and ourselves. It's the most passionate group in the Twin Cities!
Kerstin Meyer
Manager of Search Marketing
Team Br8kthru is responsible for the daily work and long-term strategy that enabled us to win this award. Hear directly from our team on why we nominated Br8kthru as Best Digital Marketing Firm in the Twin Cities.
Aligning Values and Work to Achieve Results
At Br8kthru, our values drive our every move: Michelin-Star Standards, Collective Accountability, Continuous Improvement, and Empathy. By putting them first, we're able to achieve results for our Clients but, more importantly, we're able to build long-term relationships of trust. Trusting relationships are at the heart of everything we do, for our Clients, stakeholders, and internal team. We're grateful to see that reflected in this honor.

Thank you for casting your vote for Br8kthru Consulting as Twin Cities Business' Best Digital Marketing Firm! This builds on other honors we've achieved to demonstrate our commitment to you. Interested in working with us? Get started by learning more about our Digital Marketing services and requesting a complimentary Digital Gap Audit to have our expert team analyze your digital marketing efforts and make recommendations for improvements.
Featured Articles
Br8kthru insights