Our 1st In-Person Conference In 20 Months!
Marketers and conferences go together like websites and analytics. Nowhere else are we more ready to strike up conversations with strangers and be open to new ways of approaching day-to-day work.
The 2021 Minneapolis Digital Summit brought the heat as our first in-person conference in more than a year! Br8kthru attended a variety of sessions over two days that spoke to each one of our niches in project management, SEO, paid media, and content marketing.
We've summarized the tangible takeaways that stuck with us long after the Summit ended.
Plan Beyond Conversions To Meet Consumer Expectations
Nick Meyer, Senior Paid Media Manager & Strategist
A big takeaway from the Digital Summit sessions is to think one step further. Marketers often ask prospects to request a demo. By the time the prospect is contacted by the sales team, they may already be disengaged.
A suggestion by Garrett Mehrguth of Directive Consulting is to use Calendly or Chili Piper to allow for the prospect to book the meeting immediately after that initial demo request. Another example from Brian Massey of Conversion Sciences is to think about the darker, less safe side of messaging and create calls to adventure as a way to convey that a product, service or solution is going to come to the rescue.
A highlight at conferences like the Digital Summit is always that the presenters eagerly share tools to use, YouTube channels to follow, and new tactics to try. Here are this year's highlights: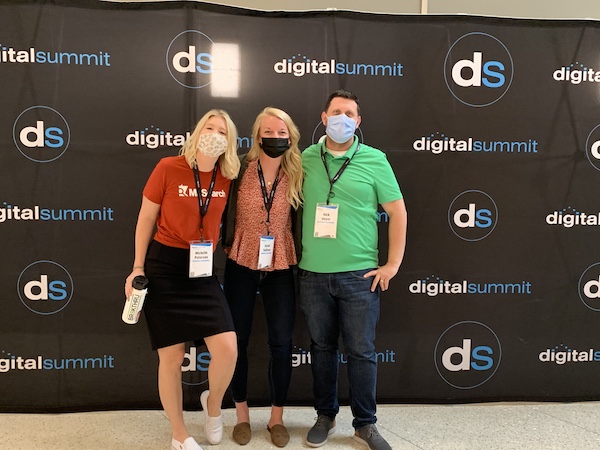 Tools
YouTube Channels
Time Management Techniques
All of this newfound knowledge enables us marketers to go beyond the initial asks, consult industry experts, and free us to think deeper, smarter, and differently.
Source Online Trends From Niche Platforms For Content Inspiration
Jon Lenz, Managing Director
Keynote Jon Youshaei's pragmatic approach to content creation: "Research, Remix + Repackage" struck a chord. (Also, let's be honest, anytime presenters give illustrative examples of Beyonce choreography + performances, it's a strong keynote.)
Beyonce found inspiration in Tofo Tofo's dance which was adapted and repurposed for her Run the World music video and stage performance.
Jon shared a way of reframing audiences on social channels as focus groups—which makes testing + research more natural components in the content marketing mix. He touted the benefits of Reddit as a topic-finding platform, and gave marketers permission to 'Remix' content that already exists from other groups, cultures or creators (with copyright + trademark standards in mind).
'Repackaging' of content was grounded in channel + platform-specific curation, especially beyond the boundaries of Google or Facebook. Think Reddit, Quora and the like. This approach also affirmed a trend that team Br8kthru has been embracing in full: content distribution. Our content strategies ensure we put as much effort into sharing content as we do in creating it.
Push DEI Beyond Culture and Into Work Product
Taylor Baskfield, Client Engagement Manager
These days, DEI (diversity, equity, inclusion) isn't a nice to have for brands, but a must-have. Not only should it be represented in the company culture + messaging, but it should be infused throughout all marketing content.
Beyond planning for inclusive content in the future, we also need to review existing marketing materials + determine what may need updates. While it can feel like a daunting process, try breaking it down.
Here are a few questions Katie Jenesen from the University of St. Thomas challenged us to ask throughout this process:
Is the content or image reinforcing a stereotype?
How can we make the text more inclusive?
Have we examined image treatment and context?

Are we striking a balance between important representation and actual levels of diversity?

Do unconscious biases undermine the stories we're trying to tell?
What other perspectives should we consider?
It's important to remember that asking these questions + looking at marketing from the inside is not a replacement for doing the work to learn + build empathy, rather the invitation to spark conversation.
Content Marketing Systems Are The Key To Scale
Michelle Peterson, Senior Content Strategist
A well-defined system for content creation is the key to scaling content marketing programs. Julia Gebhart, Product Marketing Manager with Sitecore made the point that we're not writing the next great novel. We're creating content for specific people to help solve their problems. The only way to create this content at scale is to embrace templates and systems.
Templates help content marketers think in defined blocks that can easily be repurposed across platforms. Systems eliminate the burden of 1:1 decision-making to create a more automated distribution strategy.
Content marketers create personalized content that meets buyers where they are, and that is delivered in a format buyers are receptive to. This is a tall task, but with tools, templates and systems in place, the process becomes replicable at scale.
At Br8kthru, we're finding new ways to inspire our core work—and attending the Minneapolis Digital Summit is just one example! The speakers who share their perspectives help us push our thinking beyond tried-and-true methods, and into new ways of approaching everyday challenges.
Featured Articles
Br8kthru insights