Opportunity
With the goal of activating its marketing strategy, Waytek – a national electrical components distributor – partnered with Br8kthru to implement an email marketing and content marketing strategy that resulted in a 17.1% increase in online revenue and paved the way for our digital agency of record partnership in 2018.
As a trusted distributor of electrical components, Waytek brings a human touch to serving customers across an array of industries for their electrical component needs. Over nearly 50 years of business, the company's heritage and high standard of customer service helped create a core base of patrons.

With their sights set on expanding business growth, Waytek identified opportunities for customer acquisition and retention. In order to make this plan a reality, they enlisted Br8kthru to support their internal team with marketing guidance and manpower.

We kicked off our partnership focusing on the goal of refining Waytek's digital ecosystem to drive customer retention, and ultimately, revenue.
Discovery, Analysis + Strategy
We began by evaluating Waytek's current online marketing efforts to discover areas of optimization and provide insights into activities that would encourage customer conversions from non-registered to registered – a key metric for customer retention. After a thorough digital discovery, we recommended focusing on three areas:
Marketing Automation + Email Optimization

Content Strategy + Social Media Management

Multichannel Analysis + Optimization
Strategies + Tactics
Marketing Automation + Email Optimization
To support our email marketing strategy, we equipped Waytek with a custom-built, email template, giving them the freedom to tailor design based on content. Then we worked together to develop and execute an email workflow that encourages customers to register for a shopping account based on their user behavior on Waytek's website. This set in motion the initial steps of our marketing automation strategy, giving us a baseline to work with for our continued analysis and optimization.
Content Strategy + Social Media Management
Centering our efforts around the goal of increasing registered customers, we recommended a mix of content that combined helpful resources with company differentiators to build trust with email recipients. We also supplemented emails with paid and organic social campaigns to create a cohesive voice across channels, focused on driving targeted website traffic.
Multichannel Analysis + Optimization
All of our work tied together with ongoing analysis of Waytek's channels showing where website visitors are coming from. This helps our team evaluate performance at a glance and provide guidance on actionable steps to enhance channels we are directly responsible for.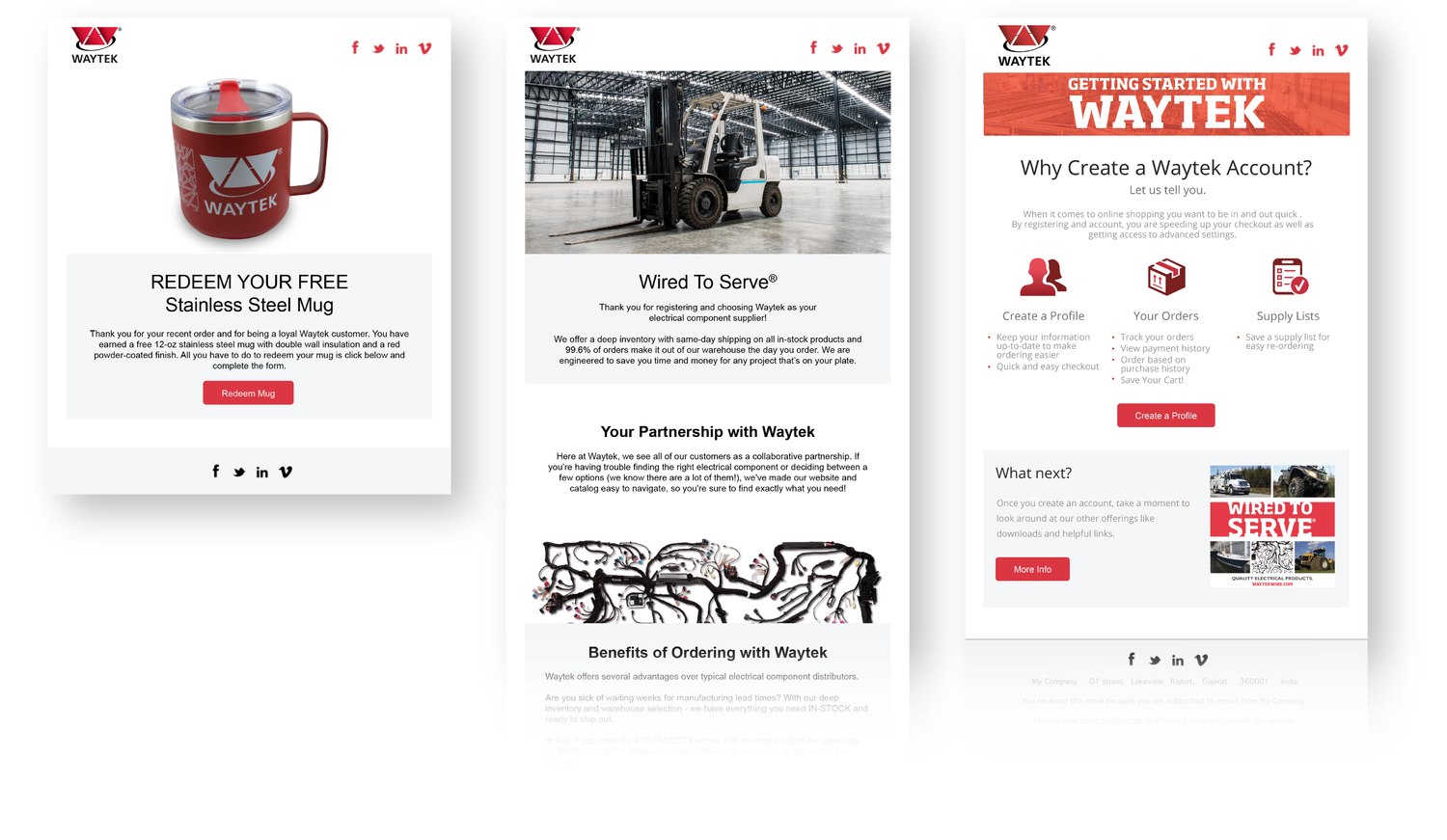 Results + Measurements
Looking at year-over-year performance, we saw a multi-million dollar increase of 17.1% in online revenue — driven by our collective efforts around email marketing, automation, UX and social media. In addition, Waytek is on track to achieve its best year since 2014 for customer retention at 11.5% YoY growth, and highest revenue ever.
This initial partnership demonstrated Br8kthru's marketing prowess, technical ability, and cultural fit to serve Waytek as an ongoing digital marketing + technology consultant.
Our partnership has since expanded into becoming Waytek's digital agency of record, encompassing an array of activities including a complete overhaul of their web platform, eCommerce engine, and server infrastructure; ongoing SEM, SEO and social media; and refining its marketing automation and content strategies to continue growing Waytek's customer base, improving retention, and driving sales.